About Us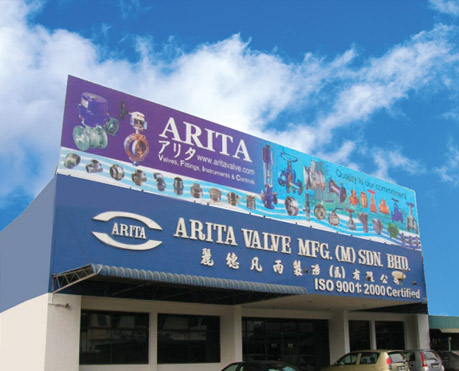 Arita Valve Mfg. (M) Sdn. Bhd. (AVSB) is a subsidiary fully owned by Unimech Group Berhad, which is listed in Bursa Malaysia Stock Exchange. AVSB is located at Lot 414, Lorong Perusahaan 8C, Seberang Perai, 13600 Prai, Penang and was incorporated in 23 June 1988. AVSB was commenced its business in January 1995.

AVSB is a renowned local valve manufacturer and has been actively supporting the various industries with the supply of high quality industrial valves. The various types of valves, ranging from Ball valves, Gate valves, Globe valves, Check valves, Y-strainers and Pipe fittings, these valves are fully fabricated, manufactured and tested within our facility using competent & SIRIM-approved machines, before the process of supplying to our valuable clients. Materials include those of stainless steel, cast steel, cast iron, brass or bronze with its uses in the various water, oil, gas and corrosive liquid pipeline applications.

By the year 1999, AVSB has been awarded the ISO 9002 : 1998 certification for its valves and pipe fittings manufacturing activities. In 2008, AVSB had converted its certificate into ISO 9001 : 2008. The manufactured valves are compliance to various standards, such as American National Standards Institute (ANSI), British Standard (BS), Deutsches Institut fur Normung (DIN) and as well as Japanese Industrials Standard (JIS).

With its next focus trained towards the maritime industry, AVSB will only grow from strength to strength. Supported by a professionally dedicated team of experts, you can be assured of our continuous aim of having reliable, quality and a product support development team truly understanding the market needs as well as being able to support local clients easily.

Also, with the added accreditation by Bureau Veritas (BV), this adds credence to our aim of becoming a reliable valve manufacturer. With the rise of Arita marine valves, the local shipbuilders need to search elsewhere for a more credible and cost saving valves.